Modern world's vulnerability raises a lot of challenges in the financial and the banking industry. Banks need to keep their operations clear and transparent, follow fast-changing embargo lists, prevent money laundering and constantly improve "Know Your Customer" principles and approaches.
The Interactive Compliance Manager's (ICM) main goal is to help banks follow global compliance requirements within the industry. The key benefit is that the solution serves not only as a Compliance tool, but also operationalizes end-to-end Compliance processess across the enterprise starting from the first contact with customer and until customer termination.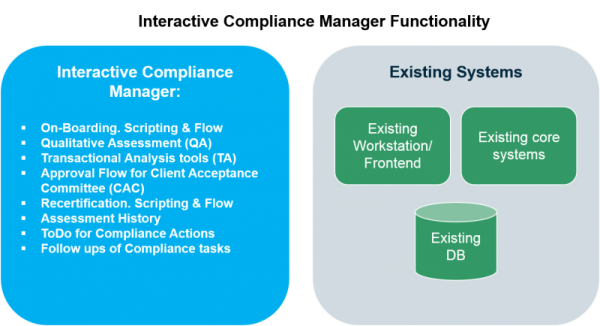 Interactive Compliance Manager solution automates and standardizes Compliance processes within the enterprise and covers all aspects of knowing your Customer. It simplifies and makes all compliance processing more secure and trusted for agents/bank employees throughout the full customer lifecycle from Prospect until the Termination stage.
ICM provides an embedded workflow between different functions (Client Acceptance Committee, Financial monitoring, RMs etc.). It ensures Compliance tasks monitoring at all levels, handles compliance via system of alerts, notifications and generated tasks for agents. ICM enables Compliance analytics for every client on request. The solution is customizable and is easily integrated with Core Banking systems, Global Compliance solutions, Financial Monitoring systems, CRMs etc.
Key Features:
Flexible and user friendly questionnaire tool
Structured approach to storage and display of information for Customer Service Representatives (special section for QA and TA in Customer File)
Support and automation of Compliance tasks Assignment for Customer Service agents
Automated reminders for Customer Service agents Compliance tasks
Tasks execution follow ups "to get things done"
Known user interface for branch users.
Benefits:
Transparency of all compliance processes across the whole enterprise
Decreased risks and penalties from non-compliant operations
Deep KYC (Know Your Customer) with detailed historical information about the customer available across the whole enterprise and branches
Simplified auditing with all evidence (customer history and documents) available
Decreased cost due to elimination of potential compliance risks
Time-saving thanks to click-to-dial functionality and ability to see all data in one window
Lower cost and higher quality of interaction experience with every customer contact
Overall improvement of customer interactions and customer experience.
Request More Information